Voting Resources 2023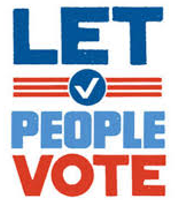 This month we want to share with you several resources that are specific to voting. We are heading into the election season, and we want everyone to be prepared, get registered, and have plenty of time to learn about the candidates, the issues, and all of the ways that you can vote.
Voting Resources
Check to make sure you are registered to vote
Find out what is on the ballot
Florida Supervisors of Elections
Florida Find your County's Supervisor of Elections
Access the Vote Florida Website
Access the Vote Florida YouTube Channel
Access the Vote Florida Podcast
AAPD 2024 Presidential Candidate Survey
AAPD State Guides for Disabled Voters
Voter ID info for Voters with Disabilities
Access the Vote Florida Virtual Summit 2023
Watch the entire summit.
https://youtu.be/e3kc0yq4Kj4?si=6f68vPnhIc_WC4Su
Watch Panel 1: Disabled in Politics, Elections & Leadership
https://youtu.be/e3kc0yq4Kj4?si=-vIk3YmdI1axsl8l
Watch the Keynote: Andrew Pulrang and Gregg Beratan, co-founders of #CripTheVote with Alice Wong
https://youtu.be/e3kc0yq4Kj4?si=HMCXs3Rpv6d7ufG-
Watch Panel 2: 2024 Election & Voting Landscape
https://youtu.be/e3kc0yq4Kj4?si=G5MmKea4s6dOpO_B
Watch Panel 3: Supervised Voting and Rights Restoration
https://youtu.be/e3kc0yq4Kj4?si=Tr8eO0YxPUPIwvfd
Access the Vote Florida Videos
Watch our 2021 Family Café Presentation
https://youtu.be/hdplSxXBY6U?si=DWifFphJ2eNKKNOD
Watch how to use the ImageCast Accessible Voting Machine
https://youtu.be/_UH3ezjo8iE?si=GEp188FqKIMEJulc
Watch how to use the Express Vote Accessible Voting Machine
https://youtu.be/HY_-d51aNEA?si=D2dYrnTXJc5pT3k6
Access the Vote Florida Remote Accessible Vote by Mail Brochure