A win for Dominion is a win for the disability community.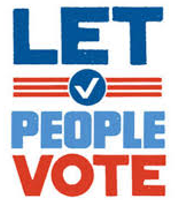 This week was a win for Dominion Voting Systems, Inc. but it is also a win for the disability community. Over the past several years, there has been a raging debate between election security and election accessibility and without any reliable studies, accessibility has been sacrificed in the name of security. Hopefully, this settlement will allow the conversation to switch directions.
One of the fundamental rights of our democracy is the right to independently and privately mark, cast, and verify a ballot. Several laws have been passed to ensure that people with disabilities have these same voting rights. However, many voters with disabilities still do not have equal access and choice for the voting method that they prefer.
In 2020, in Florida, voters with disabilities sued to have the right to electronically vote-by-mail. The lawsuit was settled and currently the state of Florida has electronic vote-by-mail. However, voters can't electronically return their ballots, the voter is still required to print the ballot and return the ballot in a paper envelope.
Not allowing voters to electronically return their ballots is an unnecessary barrier that needs to be changed. People have been safely and securely transferring money for decades.  Furthermore, the solution exists in Florida if you are in the military and are serving overseas. An overseas voter can request a vote-by-mail ballot and then fax the ballot directly to the supervisor of elections. However, a person with a disability does not have this same option. The argument against electronic ballot return is that it is not secure nor is it safe. This is a myth. If it is safe for a person in the military that is stationed overseas to fax or electronically return their ballot, then it must be safe for people with disabilities that live in our communities.
My hope is that because of the settlement this week between Dominion and Fox News that the state of Florida will finally allow electronic vote return and truly allow people with disabilities the full and equal access that the law allows and that is our right as a citizen of the United States.
Deborah Dietz
Executive Director, Disability Independence Group
Miami, Florida