A Landlord Cannot Force you to Declaw your Emotional Support Cat or Charge you a Cleaning Deposit for your Emotional Support Dog!
            For a person with depression and anxiety, an emotional support animal provides the impetus to wake up in the morning and go to school or work.  For Austin Cline, a student at Hillsborough Community College, Luna, his dog, gives him the ability to leave his parents house, go to college and then go to his job.   For years, Austin lived with chronic depression and anxiety.  He tried exercise, diet and medication, but was not doing well.  Austin researched and discussed an emotional support animal with his psychologist as part of his treatment, and she prescribed the emotional support animal for him.

            At Hillsborough Community College, Austin lives in a dormitory-style apartment that does not allow pets.  However, Austin did research on the internet and knew that he had rights under the Fair Housing Act to have an Emotional Support Animal as a modification of the no-pets rules to accommodate his disability.  The dorm-style apartment is managed by Peak Campus Management, and Peak Campus Management operates dozens of dormitory apartments with thousands of tenants across the country.

Click for Fox13 Story on Austin Cline and Luna, his Emotional Support Animal

While Peak Campus Management allows emotional support and service animals, it promulgates rules and regulations for those animals which either surcharge an animal owner for having an animal, or it limits the animal users' use and enjoyment of the premises. Under the Fair Housing Act, rules, policies, or practices must be modified to permit the use of an assistance animal as a reasonable accommodation in housing when its use may be necessary to afford a person with a disability an equal opportunity to use and enjoy a dwelling and the common areas of a dwelling. For all the rules, see Peak Service Animal Rules.
A Landlord cannot preemptively charge cleaning fees, animal fees, or deodorizing fees merely because someone has an assistance animal
A Landlord may not require a tenant to pay a fee or a security deposit as a condition of allowing an assistance animal. However, if a tenant's assistance animal causes damage to the tenant's unit or the common areas of the apartment, the landlord may charge the tenant for the cost of repairing the damage or deduct it from the standard security deposit imposed on all tenants.
A Landlord cannot demand that a cat be declawed!
It is cruel to require that all cats that are emotional support animals be declawed.  Declawing is a process in which is a process where a cat's claw, the bone, nerve,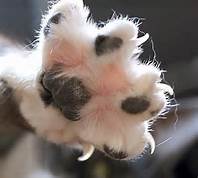 joint capsule, collateral ligaments, and the extensor and flexor tendons must all be amputated.  In human terms, it is similar to cutting off of a person's finger at the last joint of each finger.  Again, if the cat damages furniture, the tenant would be responsible for the damage.  Having a rule which requires a person to mutilate their cat that he or she needs for depression would certainly dissuade a person with a disability from even moving into the facility.
A Landlord cannot require a person with a disability to get the approval of other roommates or tenants.
The only defense to denying an assistance animal is whether the animal would pose a direct threat to others.  While some people may have allergies or other reasons that a person does not want to live with or near an animal, the remedy is to switch roommates, rather than having an accommodation dependent on another person's desires.
A Landlord cannot require that the dog must always be attended to by its owner.
A person that has an emotional support animal does not have their animal with them at all times.  Emotional support animals are not service animals and are not permitted in public accommodations, schools or other governmental facilities.  Rules that require than an animal cannot be left unattended on the premises, and even in their apartments and rooms unattended require the person with a disability to be isolated.
A Landlord cannot require that a resident indemnify and hold the landlord harmless for all claims, including paying for the landlord's fees and costs.
No matter how a surcharge is worded, cleaning fees, agreement to indemnify and hold harmless, releases, or any other way or method which dissuades a person from having an accommodation are prohibited.  For housing providers that allow pets, conditions and restrictions that housing providers apply to pets may not be applied to assistance animals.  For housing providers that do not allow pets, a housing provider cannot create new conditions and restrictions on persons who have assistance animals, other than the animal cannot be a direct threat to the health and safety of others and that they are responsible for the damages that their animals have caused.
A landlord cannot limit the use and enjoyment of any portion of the premises with the dog, unless the dog poses a direct threat to the health and safety of other residents.
Under the Fair Housing Act, a person with a disability is entitled to an equal opportunity to use and enjoy a dwelling and the common areas of a dwelling.  This includes the common areas of the apartment, going into friends units with the dog, or even having a person visit who has a dog or cat that is an assistance animal.  In as much as a landlord cannot prevent a person who is blind with a guide dog from visiting a person who lives in a no-pets building, a landlord cannot prevent a person with an assistance animal from visiting a tenant.
For more information, please see
Disability Independence Group, Inc.'s Assistance Animal Page
Frequently Asked Questions about Service Animals and the ADA | PDF This eight-page document provides guidance and answers questions about the ADA's service animal provisions.
Revised ADA Requirements: Service Animals | PDF This publication provides guidance on the term "service animal" and the service animal provisions in the Department's new regulations.
"Service Animals and Assistance Animals for People with Disabilities in Housing and HUD-Funded Programs" Department of Housing and Urban Development guidance on how the Fair Housing Act and the Americans with Disabilities Act (ADA) intersect regarding the use of service or assistance animals by persons with disabilities.