The View From Here (23-05)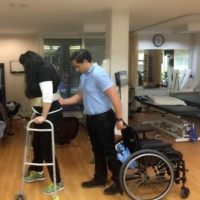 By: Justine Chicheter
The Things We Don't Talk About
"Losing is a learning experience. It teaches you humility. It teaches you to work harder. It's also a powerful motivator." – Yogi Berra

I was having lunch the other day with a friend out at a restaurant in Coral Gables. We hadn't seen each other in a while, so we sat and talked for hours, catching up, eating great food and reminiscing about old times. When we were finished, I stood up, using my walker, as I always do, and I noticed as I started to walk that my right leg wasn't cooperating. More than just not cooperating…it wouldn't even move. I gave it a minute, still nothing. It wouldn't advance forward when I tried to walk. Even take a step. I knew I'd have to revert back to using the pressure of my arms on my walker to bring my leg forward, just to be able to walk, so we could get back to the car. This was how I began walking, years ago, when I was able to stand up from my wheelchair and take a few steps. So, the movement was familiar to me…this very laborious way of walking…I just hadn't done it in a very, very long time and I was mortified that it would take so long for us to walk back to the car.

Not two days before this, I had boasted on Instagram that I finally conquered being able to step on and off of a curb, using only a cane. I had been working on this for a very, very long time and I was so proud to share the video of me accomplishing this, with my physical therapist at my side. In the video, we are laughing and smiling and so proud of what I've been able to do, when I was told as a spinal cord injury survivor, that I would not ever even walk again. Using a cane to walk, and now to step on and off of a curb, was a huge milestone. And I happily celebrated it. But, now here I was, just a couple of days later, struggling to walk at all, with my walker.

I began writing my "The View From Here" monthly articles for Disability Independence Group many years ago. And throughout those years and those articles, I've shared mostly my triumphs, such as the curb step with the cane, and my accomplishments throughout my recovery journey; occasionally sharing my struggles, but definitely never focusing on them. While I don't regret sharing my accomplishments, here or on my social media, I've noticed that it's the struggles that we keep hidden from others, while we seemingly only highlight the milestones. So, I hadn't shared that incident after lunch with my friend, until now.

Years ago, I followed Victoria Arlen when she was on Dancing with the Stars. Arlen is a television personality for ESPN and a former Paralympian swimmer. At the age of eleven, Arlen developed transverse myelitis and acute disseminated encephalomyelitis. She spent nearly four years "locked" inside her own body and doctors believed (and told her parents and family) there was no hope for survival and recovery was unlikely. At age 15, Arlen actually began to recover and speak, eat and move once again. Her legs, however, were the only thing that did not come back, and she remained a wheelchair user for a decade, until she ultimately began walking again and, yes, dancing on Dancing with the Stars. During a final dress rehearsal, Victoria was dancing with her partner, Valentin Chmerkovskiy, and she began to freeze up. It was suddenly clear that she couldn't move, so Val brought her gently to the floor and called out for her Mom, who was backstage, to come and help. Victoria later explained that her right side seized up due to spasms, which those of us who have any neurological injuries know all too well, and experience daily. She ultimately was okay, the spasms passed, and she was able to dance that night, live on television.

The point is, I remembered Victoria Arlen the other day while leaving the restaurant with my friend. And knowing someone else had gone through something similar, the freezing up of one side, the spasms, this helped me get through my difficult moment.

While I know how important it is to celebrate our milestones, oftentimes even the smallest ones, it can be just as important to share the toughest times.

Since my spinal cord injury in 2014, I've really come to admire those of us who live every day with a disability and share the struggles we face, as well as the milestones. Someone very dear to me said recently, "When you win, you always celebrate the victory, but when you don't win, you learn from the loss." That's what I've taken from sharing my challenges, and what I've learned from my fellow spinal cord injury survivors who share theirs. We can often learn more from our struggles than from our triumphs. And we can certainly help others along the way, just by doing so.