Positivity after SCI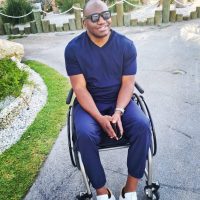 By: Dwight Lewis
"There are days when you would be tempted to look back at the past and think about the things are wished you could do over. But there is a reason shy the rearview mirror is so much smaller than the windscreen. What's ahead is far more important than what is behind you." – Brenda Walsh Ministry, Sharing God's Love
"The most interesting man in the world" is what my friends would joke around with me and say. Son, brother, husband, father of two young children. Pilot, airframe and powerplant mechanic, marine seaman, operations manager. Life was full. Full of adventure and full of promise. One bite, and in a moment, it took a turn for what could be perceived as the most daunting and uncertain life ahead.
To date, I am four years into my injury. T2/T3 complete SCI level, after falling three stories high, head first. Imagine…two hundred and thirty plus pounds, 6 feet 2 inches tall, breaking through a glass window, then falling from three stories high. I should have been dead. That day, April 14th, 2019, I was preparing that evening for a Game of Thrones binge watching session with my friends at my condo in Trincity Trinidad. We were enjoying the time together…the "lime" as we'd say in Trinidad. I recall then consuming a small cupcake that was infused with marijuana. Immediately the effects riddled my body and derailed my mind. I was out of my own control. From sitting on the couch fighting the overwhelming feeling of saying, "When will it end?" I lost it. Thereafter, of what I was told, I broke through the glass windows, fighting, almost as if I needed to escape. The next thing I remember, a day and a half later, I was in a hospital.
The prognosis was that I had a fractured skull, punctured lungs, both hands were broken, and severed spinal cord. While the hospital in Trinidad, my home country, was able to stabilize me, and they were doing their best to treat me, my family and friends were blanketing me with support. I felt hopeful the severity of my injuries led to the decision by my relatives to seek medical attention in the USA. I was airlifted to Jackson Memorial Hospital in Miami, Florida for further treatment. Here is where the journey really began. The destination is unknown. The distance is immeasurable. Life would never be the same. Mostly different because I require assistance or adaptations for most things, but also different because I see the world through new lenses.
With rigorous, consistent, and intense intervention, it is really amazing that life can go on and I am certainly grateful. Blessed beyond measure. I am back at work as an operations manager, mostly independent. Unable to fly a plane for now, but I am still able to travel to different parts of the world on my own. I drive, using hand controls, and each month I improve in areas that I had challenges in previously. Thankfully my experience has been full of hope because of my faith and belief in God, as it is nothing short of a miracle. This is the same hope and encouragement that I feel moved to share with others, especially in my home country, Trinidad and Tobago, who have had similar injuries but are not able to access all that I have received. The same encouragement and inspiration I have received from many in the various facilities in Miami. First up, Zayre, my Occupational Therapist. We met at West Gables Rehabilitation Hospital, where I began my early intervention. She got me from bed to being able to sit and exercise. After leaving West Gables, I met Sarah and Alex and Miami Physical Therapy Associates. Sarah got me standing and Alex got me walking in my RGO frame and driving a car. Next is Justine, aka "Wonder Woman." She has an infectious smile, was in a very stylish pink wheelchair, with long, flowing black hair. She was also a patient I befriended during my stay. Very determined and driven.
For me…being very real…the most challenging experience through this ordeal is not that I can't walk. Really, it is not being able to manage my own bowel and bladder. Though, thankfully, I am able to follow a program that works now, I still at times feel limited, as I am uncomfortable sometimes going out and eating or drinking as I like. Yes, I am unable to walk, yes I cannot manage my bowels, yes my career is uncertain, yes I may have lost some connections and relationships, and yes I had to spend a head of money and resources toward my recovery, but yes, I was able to gain more. Able to understand the great challenges with accessibility, able to recognize and work toward providing support to whomever I can in my country and wherever I go with similar challenges, able to understand firsthand the needs of persons with disabilities. I am a better person because of it. I have a greater appreciation for who is around me and I learned to seek help where needed. Humbled. I have a new vision and maximizing the growth mindset that kept me going. Focused. I have hope and continue to glance in the rearview mirror to remind me of where I was and look forward to where I want to be. Grateful.