Paralympian Shawn Cheshire Wins Gold When Fighting for her Rights to go to LA Fitness and Work Out Independently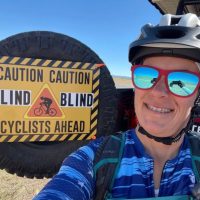 It is always an honor to work for a person whos talent and dedication is world-class.  this year, I had the opportunity to work for Shawn Cheshire to vindicate her rights to be able to work out independently at an LA Fitness by her home in Florida.  Shawn is a Paralympic cyclist who raced with the US National Paralympic Cycling Team in 20 national and 20 international races, including representing the USA at the Paralympic Games in Rio 2016. Shawn is an 11 time US National Champion. So it was shocking to learn that anybody would tell her than she can't do anything.
The Paralympics are the elite sports competition for people with disabilities and are the parallel Games to the Olympics and two movements exist side-by-side. The UK's Channel 4 has done a phenomenal job in producing trailers for the Paralympics.  For Rio in 2018, they produced a trailer called  "Yes you can" – and for Tokyo – "Might as well quit if you haven't got it" –  each of which demonstrated the excitement, but also a nod to the current discrimination that even the most skilled continue to face.  This brings us back to Shawn.
Shawn Cheshire served in the US Army for eight years as a helicopter armament systems mechanic. Following her years in the service, Shawn became an EMT-Paramedic fueling her passion to care for others. In 2009, while working on an ambulance, she sustained a traumatic brain injury which resulted in total loss of vision. When Shawn was introduced to para sports, it was through sports she confronted her blindness and her competitive spirit ignited.  She doesn't limit herself to just cycling. She snowboards, cross country and alpine skis, rock climbs, paddle boards, hikes and runs.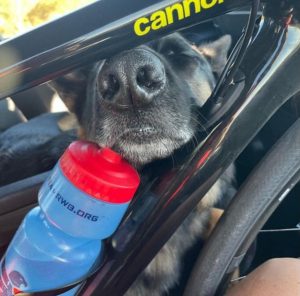 As an athlete, Shawn works out at an LA Fitness gym near her home. She usually works out with her partner, but on some occasions he is not there, and she needs to work out alone.  She asked LA Fitness to provide her a guide when she needs to navigate through the gym from machine to machine, and to tag the weights with Braille decals, so she can read them without assistance from a sighted person.  After months of discussion, LA Fitness advised Shawn that if she wanted assistance, she would need to hire her own personal trainer; furthermore, if she needed help, then her service animal could assist.  While Guide Dog Nick is awesome, he really doesn't know the difference between the different weight machines, and cant tell one dumbbell's weight from another.
Shawn hired attorneys Josh Entin and Michael Elkins to represent her to obtain the reasonable accommodation under the ADA to require that LA Fitness provides her assistance when her partner is not there to assist in wayfinding, as well as to label the weights with a Braille labeler.  Because of the gym membership contract, Shawn had to arbitrate her case instead of bringing her case in federal court.  The arbitrator the parties selected was former Miami-Dade Circuit Court Judge Alex Ferrer (who was the  star of Judge Alex, a reality court show that ran for nine seasons). In this case, I was the expert on accommodations under the Americans with Disabilities Act and not the lawyer.  After 25 years of practice doing hundreds of cases under the ADA, I could probably tell you what has been done previously, or can find literature regarding the reasonableness of any accommodation.  Accordingly, I analyzed each request for accommodation and detailed how and why each request was both reasonable and necessary and would not be a fundamental alteration of the gym's activities. This is included in this Expert Report.
Judge Ferrer analyzed all of the accommodations and the defenses after several days of trial, and issued the arbitrator's award.  
In addition to all of Ms. Cheshire's fees and costs for pursuing her rights, it included the following:
LA Fitness shall, effective immediately, modify its policies and procedures and provide auxiliary aids and services to Ms. Cheshire, upon reasonable notice of at least one hour prior to her arrival at the Pompano Location or the Ft. Lauderdale Location, during times when Ms. Cheshire does not have a companion with her to assist her (for up to 12 times per year), by providing an employee who will: (a) escort Ms. Cheshire through the Pompano Location or the Ft. Lauderdale Location during her workouts; (2) ensure that any dumbbells, weights or obstacles are removed from Ms. Cheshire's path of travel; and (3) locate and identify for Ms. Cheshire the dumbbells and free weights that Ms. Cheshire desires to use during that part of her workout as well as the weight designations per plate on machines to be used; returning or having someone else return to check on her progress periodically (ie. every 10 – 15 minutes), in order to assist her in obtaining other weights or in moving to another exercise location. For purposes of this injunction, Ms. Cheshire may provide such reasonable notice to the Pompano Location or the Ft. Lauderdale Location telephonically.
LA Fitness shall enforce its rules and policies to ensure that dumbbells and free weights are properly re-racked after use at the Pompano Location and Ft. Lauderdale Location.
LA Fitness shall be required to comply with the Injunction set forth herein so long as Ms. Cheshire maintains her membership with LA Fitness. In the event Ms. Cheshire cancels her membership, she will continue to be entitled to the accommodations set forth in this Injunction upon reinstatement of such membership.
LA Fitness shall not impose any additional charges upon Ms. Cheshire for the accommodations set forth in this Injunction
Yes she can.