National Disability Employment Awareness Month 2021 – "America's Recovery: Powered by Inclusion"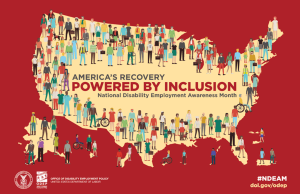 By Matthew W. Dietz, Esq.
All Americans should be proud that we have made substantial progress since the days before the ADA — when an employer could refuse to hire you because of a disability, when a person using a wheelchair could not take a bus or a train to work, and when a person with a disability could be denied service in a restaurant or grocery store.  Now, 31 years later, it is the shared responsibility of all of us to tear down the barriers that remain for people with disabilities and to ensure that all Americans have the chance to find good jobs and build good lives — for themselves and for the good of our entire Nation.
As a disability rights lawyer who represented persons with disabilities for the past 25 years, I am often asked by persons with both visible and invisible disabilities about best practices in attempting to find a job and to keep a job. So, for National Disability Employment Awareness Month, I will share my top 10 points.
Know Thyself
The main premise of all disability rights laws is that conceptions on persons with disabilities should not be based on myths and stereotypes about persons with disabilities. Every person's abilities are different and should be based on an individual assessment of his or her abilities. Accordingly, each person with a disability usually knows what will work best for them in a certain environment. Most persons with disabilities have attempted many different modes and methods of ways to accomplish tasks and these life experiences have made that person be successful.
Keep Records
Disability is defined under the ADA in three ways: an actual substantial impairment, a history or record of having a disability, and regarded as a person with a disability. The history of receiving accommodations, such as accommodations in schools, testing, prior jobs, and physical or psychoeducational evaluations are the most important evidence you will ever have to obtain similar accommodations in the future.
What's New?
In as much as you may know what has worked in the past, make sure that you keep abreast of new technologies or benefits that are available.  My favorite encyclopedic resource for accommodations for each type of disability is Job Accommodation Network's listing of disabilities and accommodations. There are also organizations that allow you to borrow devices to determine if they work for you, like Florida Alliance for Assistive Services and Technology.
Know Potential Employers
While many employers are seeking to increase diversity in their ranks, there is also a tremendous hesitancy to disclose disability prior to obtaining a job.  Unless a disability is obvious, I usually recommend against disclosure prior to receiving a job offer.  But, there is one huge exception. Under the Rehabilitation Act, Federal Contractors are required to have a goal of 7% of their workforce to be persons with disabilities under Section 503 of the Rehabilitation Act, and actively attempt to recruit persons with disabilities. In addition, many major corporations have demonstrated a commitment to building an inclusive and welcoming environment for employees with disabilities. The Disability Equality Index is a voluntary measure of participating major corporations and their tangible ways that they are bringing people with disabilities into this new industries with the greatest economy to drive inclusion and equality.
So, its always a good idea to research what companies are disability friendly, and if they are, they should be proud to display their commitment to diversity.  For example, in the legal field, Holland & Knight has a "DiverseAbility Affinity Group" "that  focus on attracting, supporting and promoting the firm's attorneys and staff affected by disabilities of all types"
You can't always get what you want, but if you try sometimes, well, you might find you get what you need
The Rolling Stones could have written the regulations for the employment provisions of the ADA.  You are not entitled to an accommodation if you don't ask, and you are not entitled to the accommodation that you want, it just needs to be effective and allow you to do your job.
Know what financial resources are available
All employers are not aware of the programs available from governmental agencies, or tax benefits that are available to assist in acclimating employees with disabilities.  If you are eligible for Vocational Rehabilitation services, they may pay for job training, assessment, coaching, accommodations, and assistive technologies.  Similarly, if you are on Medicaid waiver program, then you can get additional long-term coaching.
There are also tax credits available for hiring eligible persons with disabilities – Work Opportunity Tax Credit (WOTC) – that range from $1,200 to $9,600, depending on the employee hired and the length of employment. In addition, small businesses can obtain a tax credit on 50% of all expenditures related to disability access issues up to $10,000.  This includes everything from providing sign language interpreters to purchasing ergonomic chairs for employees with mobility impairments.
Know what resources are available in the community
After twenty-five years of litigation, I can tell you that every governmental entity and every company, other than small entities, have a person who should be the point person for disability compliance. That is the person that has the most knowledge as to what that entity does to ensure that they provide access to persons with disabilities.  From my lawyer's standpoint, they may be legally incorrect in their decisions, but they are the most knowledgeable person regarding disability compliance.  Why is this important – well, to ensure that there is adequate transportation or access to places that you would need to access for purposes of work.  For example, as a lawyer, it always is good to know how to request accommodations from the court system, whether it is a courtroom with physical access, assistive listening systems, or even knowing how to advise a judge or judicial assistant that furniture or boxes cannot be by the latch side of the door so a person who uses a wheelchair could enter or leave.
Know the internal processes or procedures for requesting accommodations and making complaints
Most companies have policies and procedures regarding human resources.  Small companies sometimes only have a human resource person and a general non-discrimination policy that is all encompassing for race, religion, color, sex, disability, and so forth.  However, the larger the company is, the more complex their policies will be.  For many companies, immediate supervisors may have no knowledge at all of the resources available for employees with disabilities.  That's why its so important to know the person to speak with and how to complain when necessary.  In addition, the Equal Employment Opportunity Commission provides guidance on many different subjects that explain the duties of employers to employ and accommodate persons with disabilities.
COVID-19 and advances in technology has changed the landscape for persons with disabilities
In the past twenty years, the advances in technology and telecommuting have made it possible for people with disabilities to be accommodated at little or no additional costs.  For people who are Deaf, the use of videophones and remote interpreters on demand has made interpretation at short notice quick, cheaper, and very easy.  For persons who are blind or visually impaired, electronic accessibility, screen readers and voice to text software has opened up a world of communication possibilities.  Lastly, the increased use of video conferencing software and working remotely during the pandemic has demonstrated that for most tasks, in person work is unnecessary to do the essential requirements of a job. In the new economy where technology is an essential element of the marketplace, the measure of what is an essential qualification has dramatically changed.
Disability is essential for Diversity, Inclusion and Wellness
Experiencing differences in life add additional insights into ways to get additional customers, improve processes, or to build a healthy corporate culture. Part of inclusion is individually assessing each person's strength, whether that person is disabled or able-bodied. Having an environment that acknowledges and freely accommodates disabilities reduces stigma and encourages people to get help when necessary.  For example, during the pandemic, the numbers of people who currently suffer from depression and anxiety have skyrocketed. This has led to poorer performances and increased absenteeism.  It benefits all to ensure that accommodations and services are available, without penalty or stigma.
For my friends that are in government, or in the private sector, for National Disability Employment Awareness Month,
review your policies and procedures to accommodate for persons with disabilities,
make sure that your company or organization is inclusive, both in structure and in policy
promote or recognize a program implemented for employees with disabilities
include and promote disability as an essential part of your disability, equality and inclusion programs
have a training regarding accessible technology
bring in a truckload of puppies to increase wellness and highlight mental health programs.
Happy National Disability Employment Awareness Month!