Miami Herald 5/19/23 Op-Ed–Take Steps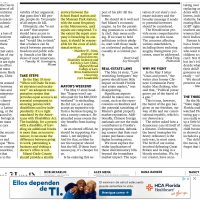 Re the May 18 story "When will Dade fix tran­sit elevators and escala­tors?" An adequate trans­portation system that provides equal access is an essential component to ensuring persons with disabilities can live inde­pendently. It is a right mandated by the Amer­icans with Disabilities Act. The hardship, for a person with a disability, of trav­eling six additional blocks is more than an inconve­nience; it can mean the difference between going to work, patronizing a business and visiting a doctor's office or not.
Miami-Dade County should provide a shuttle service between the School Board station and the Museum Park station, with the same frequency as the Metromover, until repairs are completed. To the extent the repair com­pany is breaching its con­tract, it should be respon­sible for the costs of addi­tional services.
Matthew W. Dietz
Professor and clinical director, Disability Inclusion and Advocacy Law Clinic, Shepard Broad
College of Law, Nova Southeastern University, Fort Lauderdale