Matthew W. Dietz
Board Chair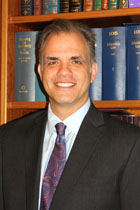 Matthew W. Dietz is a founding member and current Board President of Disability Independence Group. He is the Clinical Director of the Nova Southeastern University, Shepard Broad College of Law's Disability Inclusion and Advocacy Law Clinic where he teaches law students how to be disability rights attorneys though a focus on therapeutic jurisprudence and professional wellness. Professor Dietz has been practicing in the arena of civil rights litigation since 1996 and has handled hundreds of matters involving the Americans with Disabilities Act, the Fair Housing Act and other civil rights laws regarding the rights of Persons with Disabilities, and others seeking equal rights under the law on the basis of race, color, national origin, gender, age, familial status, and sexual orientation and gender identity. Prof. Dietz has been a very active writer, advocate and speaker on disability rights issues.
He is active in sections and committees in the Florida Bar, and is the past chair of the Animal Law Section, past chair of the Equal Opportunities in the Law Section, and past-chair of the Public Interest Law Section of the Florida Bar.  He has worked to eliminate stigma and increase wellness throughout the profession, from creating puppy pits and goat yoga for the annual convention to drafting rules.   In his work within the Florida Bar, Prof. Dietz drafted proposed Rule of Administrative Procedure 2.540, which provided guidelines for providing accommodations for Persons with Disabilities in Florida Courts, and is currently working on amending the rules to eliminate stigma against those applicants and members of the Bar with mental illness or histories of drug or alcohol addiction.  In 2004, he was awarded the prestigious G. Kirk Haas Humanitarian Award by Florida Bar President Miles McGrane, for his work on behalf of persons with disabilities.
Prof. Dietz represents victims of discrimination in administrative, trial and appellate proceedings, and has over three hundred reported decisions.  In the past twenty years. he has worked to redefine effective communication, reasonable accommodation and expand the rights and opportunities of persons with disabilities.  In 2019, Matthew Dietz was awarded the American Bar Association's Paul G. Hearne award for performing exemplary service in furthering the rights, dignity, and access to justice for people with disabilities.