How life can change in the blink of an eye.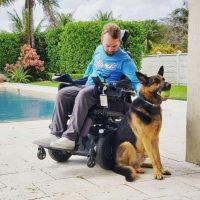 By: Jordan Almendral
How life can change in the blink of an eye. One minute, I am standing on a pitcher's mound playing the game that I love, the next I am laying in a hospital bed fighting for my life. On July 11th, 2010, my life and that of my families, was forever changed.
It was an ordinary day, and I was doing what any 17-year-old does the summer before their senior year, enjoying a party with my friends. We were enjoying life and each other's company as an acquaintance from another school drove us home in his large suburban. I was sitting in the last row when the driver of our vehicle miscalculated and made a left turn onto an incoming car.
I was immediately ejected by the force of the collision.
This next part of the story has been told to me by my family, as the force of my head hitting the pavement sent me into an immediate coma. A medical helicopter took me from the accident scene to Jackson Memorial Hospital (JMH). It was then that doctors diagnosed me with a traumatic brain injury (TBI) as well as a spinal cord injury (SCI). My parents had to make an unimaginable decision on whether to operate my spine (giving me the chance to perhaps walk again), or my brain (because what's the point of walking if I don't have any brain function) first. My body would not survive both surgeries at the same time. Ultimately, my parents asked the doctors to save my life and operate on my brain. The neurosurgeons performed a craniectomy, which means they removed the bone flap from my skull to reduce swelling and inflammation. A week later they operated on my C5 vertebrae. The surgeries were a success, but I wouldn't wake up from my coma until six weeks later. And it's important for me to note that waking up from a coma is a slow process. It's not like the movies where it's a sudden awakening.
Once I was awake, I immediately began physical therapy. I recall being confused of where I was and being unable to feel my hands and legs. The next three months were going to be crucial to my recovery. My parents made the decision to send me to one of the best rehabilitation centers in the US, Shepherd Center in Atlanta, GA.  They specialize in SCI and TBI, and this is where my mom and I spent the next six weeks. This was a very dark time for my family and me. Recovery was slow and there were still so many questions and unknown about what my recovery would entail and what function I could regain. After my six weeks were complete, I finally returned home to Miami where I immediately began speech, occupational, and physical therapy three times a week. In January 2011, my neurosurgeon put back the bone flap that had been removed from my head and frozen. This is the first time I remember feeling like myself again. From this point on, I had told myself that the accident had already taken enough from me, I wouldn't let it take or deprive me of anything else.
Returning home brought many challenges, but it gave my family and me time together to reflect, heal and build strength for the future. I watched my friends graduate from high school in the summer, and I was determined to the do the same. I enrolled in a homeschooling program in the spring of 2012 and graduated with my GED. That summer, I enrolled in Florida International University. I was nervous to be on my own and maneuver through the halls by myself and ask strangers to push the wheelchair door opener when it didn't work. But I found that most people are happy and willing to help, and that I was more independent than I thought.
As a former athlete, working out was always a part of my daily routine. I'm happy that this hasn't changed with physical therapy being a weekly activity for me. When I wasn't in school, I was in physical therapy. If I had class in the mornings, I'd go to therapy in the afternoon, and vice versa. Thankfully, my parents discovered Miami Physical Therapy Associates (MPTA). This is the facility and physical therapist that I credit most for my recovery. Getting me from a manual hospital chair to a power chair that gave me independence, helping me detach my arms from my chest due to tightness in different muscles, standing me up for the first time in almost two years, and much more. With interest in different facilities that offer different forms of physical therapy, I have been going to I Am Able and Youth 'n Action for the last six years as well. At times, dividing my weekdays between the three facilities. Staying active is key for me, and one of the reasons I feel physically healthy.
One of my biggest accomplishments to date was graduating from FIU in 2018 with a bachelor'sdegree in psychology. I haven't been in a hurry to find employment, as I still want to continue gaining strength and building on my independence. My family has been my rock, and the best support system anyone could as for. In 2020, I set a new goal for myself, to get my driver's license. I took a special driving class to prepare me for the test. At the time, being back behind the wheel of a car triggered some mental emotions I didn't know existed, and anxiety got the best of me. After seeking a counselor for help, I decided to try again in 2022. I'm proud to say that I received my driver's license in September after passing the driver's test.
You can put an athlete on the sideline but you can't keep him off the field. In May of 2019, I did the Wings For Life world run 5K marathon. Their philanthropy is to raise money for spinal cord injury research. I Am Adaptive, a nonprofit foundation sponsored  me to do this run with them. In the last three years I have also competed in three adaptive fitness competitions that really brought out the competitive nature I had burning inside!
Today, I'm still finding ways to stay involved with my passion for sports. Since I can no longer physically play baseball the way I used to, I have been focusing on sharing my story and giving motivational speeches to teams and athletes. I've had the opportunity to return to my high school and speak to several teams, as well as other schools within Miami-Dade. I hope that hearing my story can allow them to reflect on how precious life is and to make the most of their opportunities while they have them. We only have this one life to live, let's live it to the fullest.