Deborah E. Dietz
Executive Director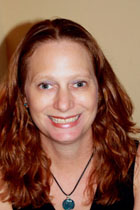 Deborah Dietz is the Executive Director and one of the founders of Disability Independence Group, Inc. Ms. Dietz has a Bachelor's Degree in Science Education from Boston University and a Master's Degree in Business Administration from Florida International University. She participates in a number of local, state and national organizations, including being appointed as a member of the State Independent Living Council of Florida, and has held many leadership roles in those organizations, including serving as National the President of the American Association for Justice Auxiliary.
Mrs. Dietz, has created over thirty trainings for persons with disabilities, their families and caregivers.   She created and implemented the HUD ASL videos project, and has created and implemented The Wallet Card® Project, a nationally recognized outreach effort to persons with disabilities.
Ms. Dietz was awarded The League of Women Voters of Miami-Dade County Women Who Shine Award in 2019.