Are Doctors Required to Provide Interpreters for Deaf Patients?
By: Matthew Dietz
I will remember that there is art to medicine as well as science, and that warmth, sympathy, and understanding may outweigh the surgeon's knife or the chemist's drug.

Modern Hippocratic Oath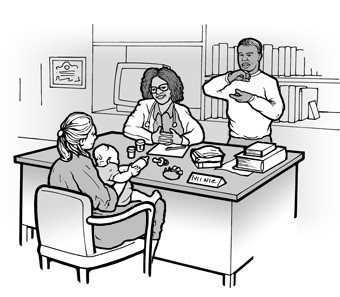 At least once per week, I receive a call from a Deaf person complaining that their doctor will not provide them a sign language interpreter for their visit to the doctor. The doctor insists that the patient should communicate by passing notes back and forth or by trying to lip read. If the Deaf person insists on an interpreter, the doctor demands that the Deaf person pay the costs of the interpreter.
Why is this wrong?
For many persons in the Deaf population, English is not their primary language, American Sign Language is their primary language. The Deaf person's English ability may be in the Elementary School level. Also, the majority of English speech sounds emanates from the tongue, throat, breath, and are invisible on the lips. Only about 30% of English speech sounds appear on the lips. Approximately 70% of speech reading involves guesswork apart from the actual information received by viewing speech on the mouth. During a discussion on medical information, where the patient is usually nervous and anxious, this type of guesswork leads to misunderstandings, and may place the patient in serious danger. Also, written notes may be acceptable for short and simple conversations, such as asking a question in a store, but not when the information is long, important or complex.
Why are Qualified Interpreters necessary?
Sign Language interpreters are highly experienced professionals that have specialized expertise and training. While proficiency in English and in Sign Language is necessary, language skills alone are not sufficient for an individual to work as a professional interpreter. Becoming an interpreter is a complex process that requires a high degree of linguistic and technical skills. According to ADA Regulations, a qualified interpreter is required to be able to interpret accurately, both expressively and receptively using any specialized vocabulary needed for the communication. While professional certification is not required under the law, an important measure of an interpreter's proven ability is professional credentials by an accrediting organization such as Registry of Interpreters for the Deaf, Inc. (RID)
Does the Law Require Doctors to provide interpreters?
A doctor's office is a public accommodation that is required to provide auxiliary aids and services, such as an interpreter for the appointments. It also requires that the doctor provide an interpreter to a companion of a patient that the doctor would normally communicate with during the appointment.
Are there any benefits to providing interpreters for the doctor?
Besides the basic benefit that doctors are able to communicate with their patient, be compassionate and understanding to the Deaf patient's needs, the Internal Revenue Service provides a "Disabled Access Tax Credit" for 50% of all amounts spent on services for the Deaf, after the first $250.00 is spent, this amounts are in addition to the 50% deduction for the business expense. So if you have several Deaf patients, the tax benefit pays for the price of the interpreter.
When can a Doctor decide not to provide an interpreter?
1. Where the information conveyed is short, simple and not important. If the visit is to provide a flu shot, with not much discussion or conversation, then passing notes may be acceptable; however, if the patient has a pre-existing condition that would cause a side effect from the shot, an interpreter may be required.
2. When providing an interpreter is an "undue burden". If providing an interpreter for $75 would have a substantial material effect on the overall resources of the doctor's office. This may be the case if the doctor's office has a very few patients and can hardly make ends meet. When a doctor has an active medical practice, it does not matter whether the cost of the interpreter exceeds the amount of the doctor's appointment. (1) (2) (3) (4) (5)
How do you ask for an Interpreter?
1. Ask for the interpreter when you make the appointment.
2. If they say no, then ask to speak to the office manager or the doctor.
3. Ask the office manager or the doctor.
4. If they say no, say that you are deaf and you will not understand if you do not get an interpreter. Tell them that it's your right under the ADA, and provide them this article or information from the ADA website about medical information.
5. Try to ask for their fax number so you can give them the information.
6. Call before the appointment to make sure than an interpreter will be there.
What to do if the Doctor says no?
1. If the doctor leases space from a medical building that is owned by a hospital, call the hospital's interpreter services and ask them to provide an interpreter for the doctor's office. Under the ADA, the person who owns the space where the medical office is located may also be responsible for the accommodation. This is the case where the building owner focuses on having all doctors and medical offices in its building
2. Call up the insurance company.
Most insurance companies receive and administer Medicare policies, especially those that are a part of the Affordable Care Act (a/k/a Obamacare), and if they do, they are not allowed to discriminate in their programs and services under a law called Section 504 of the Rehabilitation Act. Tell them that the doctor on their plan refused to provide an interpreter and you want to see a doctor that will provide an interpreter.
Insurance Companies are not always that helpful.
I asked Kayla, Disability Independence Group's client concierge, to call up several insurance companies to ask them if they would cover the cost of interpreters if the doctors would not. This is what occurred:
Humana
I called their customer service asked: "If someone is deaf and their doctor cannot give them an interpreter when they ask because the doctor's insurance doesn't cover it, will the patient's insurance cover it?"
*Put on hold while they researched the answer*
They said they weren't sure what the answer was and maybe sales would know, that maybe it was a benefit of one of the policies.
I asked if they had anything on their website about it, they asked if I had seen anything on the website about it, I said no, and they said there probably isn't anything on the website then. They said they would connect me to sales. I was put on hold for sales then sales disconnected me. I tried again and I kept on being transferred.
Aetna
I called their main line at 1-800-872-3862 and was directed to sales, specific for the state I lived in and whether your plan is private or employer. I said it was a private plan (like a Medicare plan), and I was told that obtaining an interpreter would depend on your plan if insurance would cover an interpreter. Nothing on their website about it. I also sent the question online in their question/contact form but haven't heard back yet. Then, when I called, I was transferred over from sales to someone else, went back to "general questions" people. I just kept getting transferred from person to person and everyone said someone else would know better than them…I never got an answer from anyone.
Assurant Health
On their website say they accept TTY calls and to let them know if you need assistance when contacting them in general. Did not see this on the Aetna or Humana websites. Called 1-800-553-7654. Spoke to them and they said "we have Spanish interpreters" even though I explicitly said for someone who is deaf or hearing impaired. They said they do not have that.
Matt, I want to sue my doctor for not providing an interpreter!!!
Anyone can sue. But, the only relief that Title III of Americans with Disabilities Act provides is to force the doctor that you would like to use to provide you with an interpreter. Title III of the ADA does not provide a claim for money damages. This may be different for states other than Florida that have laws that provide more remedies than the ADA, such as California.
So, I would always have concerns about suing a doctor that I would want to see. The same concerns that I would have about being rude to a waiter who is serving my food.
Under the ADA, a doctor cannot refuse to see you if you complained or filed a suit against him, but, again, would you feel comfortable in treating with a doctor that you are suing. If you would go back to the hospital, then, it's your right!
When can I sue and receive money for discrimination?
The question that is always asked of lawyers! There are two circumstances where damages could be obtained without being required to go back to the doctor that you are suing.
1. If the doctor's office has over fifteen employees and they accept Medicare or Medicaid, they would need to provide interpreters under the Rehabilitation Act. Under the Rehabilitation Act, you would need to make sure that you asked the doctor and office manager for an interpreter, and if they said no, you told them about your rights, and they still continued to deny you an interpreter.
2. By complaining to the Department of Justice and the Department of Justice brought a case on your behalf against the doctor.
Other Resources.
1. Filing a complaint with the Department of Justice. http://www.ada.gov/filing_complaint.htm
If you are deaf and cannot communicate in English, call up the Department of Justice ADA Information Line at 1-800-514-0301 to schedule an appointment for them to take the complaint by phone. If you file a complaint, the complaint may also be referred to the Key Bridge ADA mediation program, which will give you an opportunity to resolve the case without substantial delay.
2. If the office has over 15 employees or a hospital, you can complain to the Department of Health and Human Services at https://ocrportal.hhs.gov/ocr/smartscreen/main.jsf
If you are deaf and cannot communicate in English, call up the Department of Health and Human Services, at 1-800-368-1019,to schedule an appointment for them to take the complaint by phone