Myesha Ponder
Project Director for the Wallet CardTM Project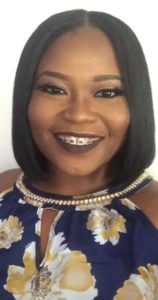 Myesha Ponder is the Program Director for the Wallet CardTM Project at the Disability Independence Group. Ms. Ponder is a Miami native and began working at DIG in April after relocating from Gainesville, FL.
Myesha graduated from the University of Florida with a Master's and Bachelor's degree in Health Education. She is a Certified Health Education Specialist. Ms. Ponder is passionate about people, service and education. She enjoys working closely with people from all walks of life.
Prior to working at DIG, Myesha was an Associate Planner at WellFlorida Council, the state-appointed health council of North Central Florida. In her role she served as the Program Coordinator for the North Central Florida Health Care Coalition and the North Central Florida Cancer Collaborative.